Unica today announced its support of iPad email previews, via Pivotal Veracity's eDesign Optimizer tool. Along with Litmus and PreviewMyEmail, Unica is the third email vendor to launch iPad previews in the last month.
In Monday's WWDC keynote address, Steve Jobs stated that Apple was selling an iPad every 3 seconds. Below are the only three tools which answer the question,"What does our email look like on the iPad?"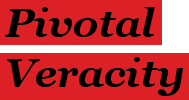 Mobile rendering is the new Outlook 07, only there's 5+ popular devices with varying levels of CSS support.
"Different screen sizes present new rendering issues, which marketers must consider; this makes optimization so much more important in order to ensure brand continuity." said Michelle Eichner, vice president, product management, Unica.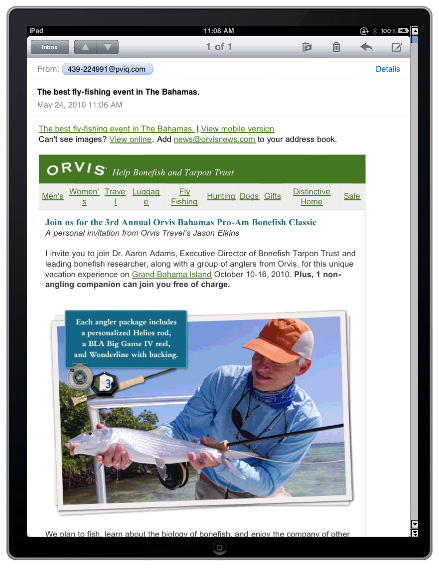 One rendering issue, highlighted in the Unica screenshot above, is how the iPad handles HTML text.
Email issue I've noticed w/ iPad & Gmail – HTML emails look GR8, but many have navigation text links that R wrapping – @LorenMcDonald
Like the iPhone, the iPad auto scales small fonts up to 12px. This is causing problems for many retailers, who have 8-10px navigation links. When the text scales, it breaks the template.
Add the following code to disable auto scaling fonts:
style="-webkit-text-size-adjust:none"
Read more about adjusting the text size here. Though I'd consider making all your fonts at least 12px.
64% of retailers use an 8-point font size or smaller in their email footer text. This makes checking your entire email critical, as Michelle Eichner pointed out,
All our mobile previews offer scrolling capabilities!
The iPad and iPhone, may bring with them a new slew of rendering challenges, but also opportunities in the form of HTML5 video.
"We're hearing from a lot of smart marketers who want to leverage the rich email capabilities of the iPad; its video-enabled inbox is ideal for delivering effective email communications," said Michelle Eichner.
Pivotal Veracity also supports the following mobile devices:
Android 1.6
Blackberry 2.x
iPhone
Palm Garnet (Treo)
Palm Pre
Symbian S60
WM6
You can view more Pivotal Veracity iPad screenshots here »

Follow @pivotalveracity

Litmus also lets you scroll through the entire email, which is useful, as often the bottom half of your design is off the first screen. You can view a live preview here »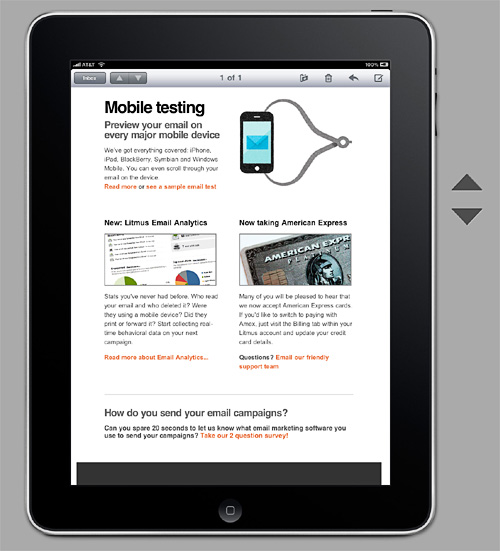 I asked Paul Farnell of Litmus, if he could share the latest iPad market share stats,
On our own mailing list (technical/design audience) we see 3% iPad usage. That's more recipients than are using Yahoo! Mail and Hotmail! As a point of comparison, we see 10% iPhone usage on our own list.

Across all the lists that have been tracked using our Email Analytics product, we've seen a average of 0.4% iPad usage. That's based on our tracking of just under 5 million total opens. Clearly it depends a great deal on the kind of audience you're sending to, as you'd expect.
Paul sent me this table, which looks at the relative engagement by email client: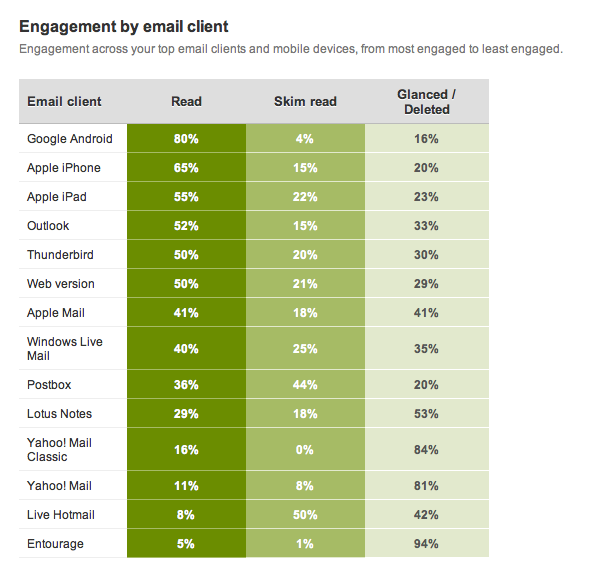 Looks like iPad users are some of the most engaged – they spend the longest reading the email. The biggest use case for using the device – while on the couch, rather than at your desk – is perhaps what influences this.

Note that the iPhone's engagement is higher – could this be because the larger screen on the iPad allows you to see more of the email, and therefore scan it more quickly? Interesting stuff. This data is again from our own email campaign (using Email Analytics to collect the information).
In terms of rendering issues, Paul has seen very few, pointing out that the Webkit engine that the iPad uses to render HTML emails is very solid.
There's also fewer complications with zooming than we've seen on the iPhone, since the iPad's display is so much larger.
Litmus also supports the following mobile devices:
Apple iPhone 3GS
BlackBerry 8800
Symbian S60
Windows Mobile 6.5

Follow @litmusapp
PreviewMyEmail was the first to offer iPad email previews. You can view a live preview here »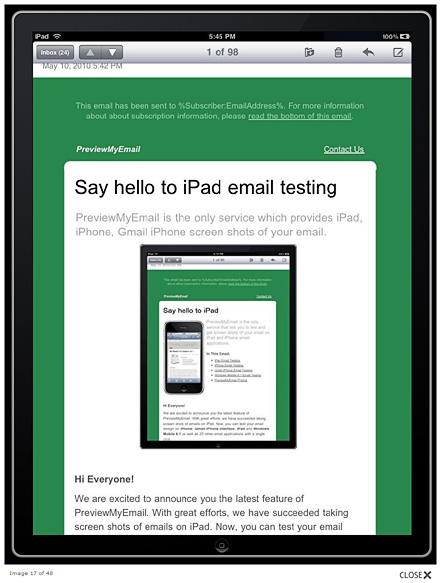 PreviewMyEmail is very affordable, though you can only preview the first screen. They currently don't support a scrolling view.
I ran the two iPad previews below today, in PreviewMyEmail. I wanted to revisit their software and double check auto scaled text on the iPad. The top image shows how the text has been scaled, causing it to wrap. The bottom image shows how it looks after adding the fix I mentioned above.
Besides the iPad, PreviewMyEmail support the following mobile devices:
Windows Mobile 6.5
Apple iPhone 3G
Gmail on the iPhone

Follow @previewmyemail

Takeaway: Just get testing!