Email Design on Kindle Fire
It's been predicted that five million Kindle Fire tablets will sell in the next six weeks. At just $199, it should at least make a dent in iPad sales. Here's my quick first impressions.
1. 600px wide
Kindle Fire uses a custom build of Android. Just like other Android devices, it doesn't scale content to the width of the screen. This means in portrait mode emails are lopped off at 600px wide. You can swipe to see more, but for an extra 50-100px its irritating.
Compare the Kindle Fire (left) with the iPad, which scales content to the width of the screen. With new devices being released all the time, a low maintenance fluid layout is looking more attractive everyday.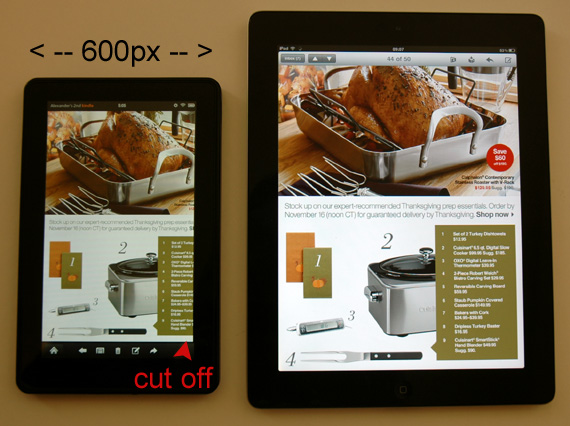 2. No Zooming
Pinching is not enabled in the default email client, which means users can only swipe around trying to remember what they just saw. Nielsen likens it to reading through a keyhole, users find this more work due to our lousy short term memory.
In my mobile email chat, I cover about how Android and iOS scale content, including horizontal layouts. I'd place crucial information aligned left, for Android smartphone and tablet users.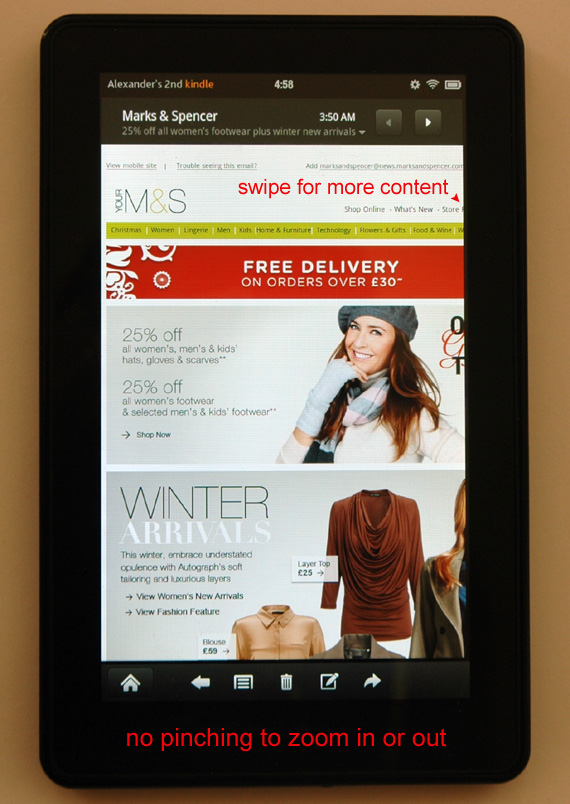 3. WebKit baby
Fire uses a WebKit browser called, "Silk". I'm seeing curved CSS3 buttons, so it looks like we are good to go.  Animated Gifs and media queries are also supported, so that's one way to get around the 600px cut off.  No HTML5 video though…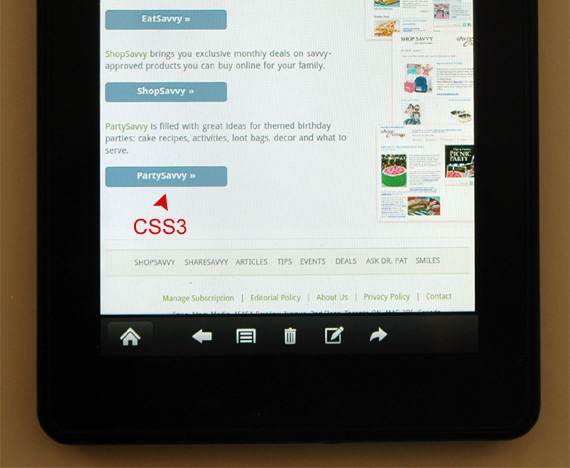 4. Touch screen
Although I can read more copy than compared to a smartphone, I can't tap links if stacked on top of each other. You'll still need to rework navigation, tables of content, buttons ect for touch.
When gripping the device, the base of my thumb can overlap the creative. I've already triggered a few stealth URLs by mistake. It might be worth leaving a buffer at the edges and bottom where the toolbar is positioned.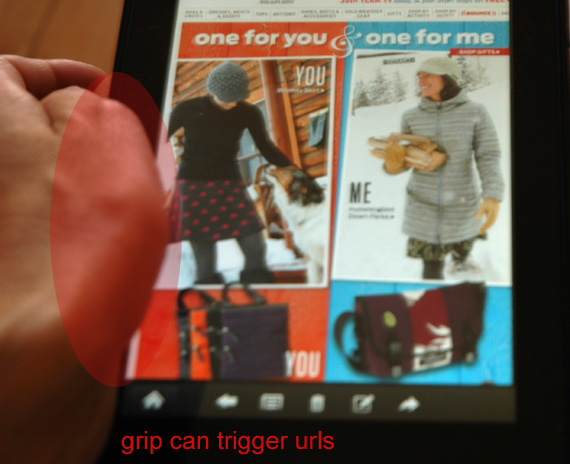 5. Degrees of mobility
We recently bought a 10″ netbook with WIFI for less than $300, its the same resolution and roughly the same size as an iPad. Its changed my whole view of, "what's mobile". On a recent trip, my husband coded his server while delayed in an airport lounge and I did some Photoshop in the hotel cafe.
There's no magical cut off point where a device is no longer "mobile", it's just a matter of degrees. The smaller a device, the more chance we'll keep it on us. The Kindle Fire is handbag sized, not pocket, but its much more portable than an iPad.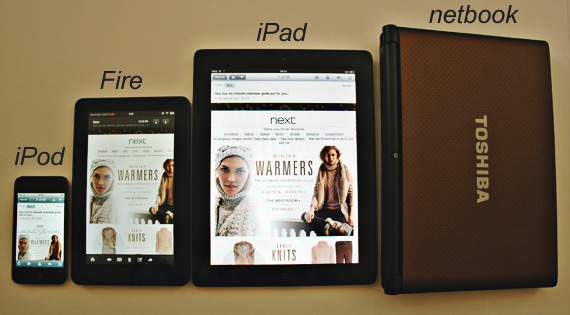 6. Orientation
The small physical size and weight, make it easy to hold in either orientation. I'll be paying more attention to how my emails render in landscape.
You can also navigate one-handed, though the back button trips you up as its just out of reach of right-handed users.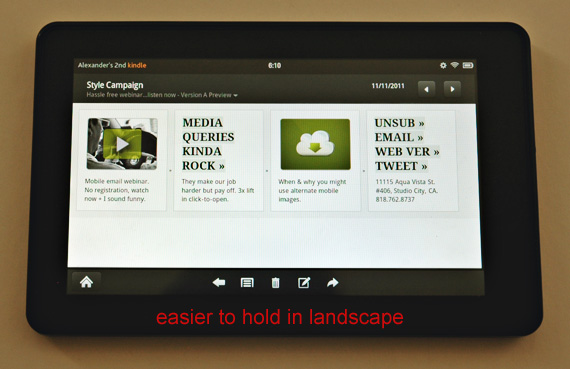 7. Silk performance
I've received a lot of, "Download complete message" notices at the bottom of the screen. I've been viewing these same emails on an iPod for weeks over the same WIFI connection, and not seeing nearly as many download prompts. Could be a fluke, or maybe the Kindle Fire' Silk – proxy/hybrid? – browser doles out files differently.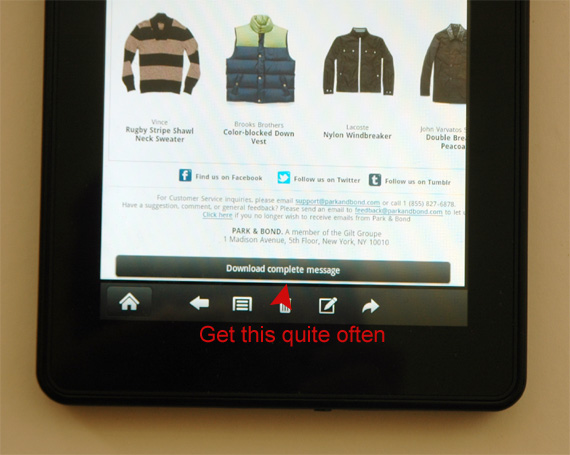 You can buy other email apps in the Kindle store (no access to Android marketplace), I've not tried them out. Though most users will stick with the default app.
I'm bracing for a spike in mobile email usage across all devices after the holidays. Smartphone and tablet prices are being slashed, and its the busiest time of year for mobile sales.