STYLECampaign iPhone & Mobile Top 10 Email Preview Test Tools
Between November and December 09, the number of people reading the STYLECampaign newsletter on the iPhone, jumped from 4.4% to 10.4%.
Needing to test some new, iPhone friendly templates for STYLECampaign, I went searching for a mobile preview tool. Here's 10 I've found: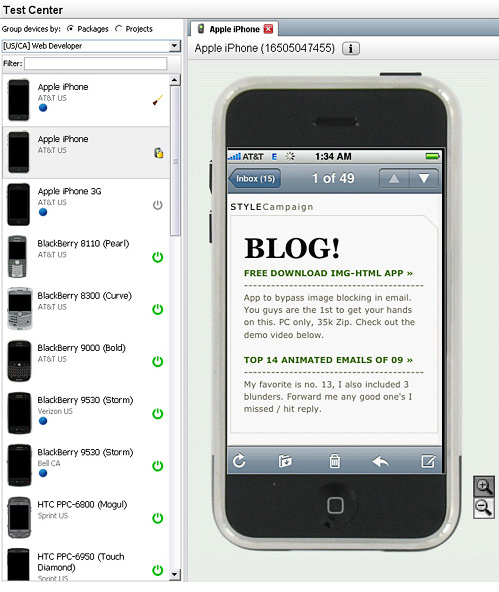 Pros: DeviceAnywhere allows you access to over 2,000 devices. All emulators, not static previews. On the iPhone this means you can use the zoom and scale functions, view in portrait or landscape and test if your landing pages are mobile friendly.
They have an independent developers package, for the iPhone and Android only. Also a 3hr free trial.
Cons: Still need a second solution for email client previews. Have to install DeviceAnywhere on your system.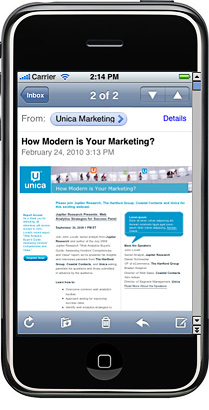 Pros: Pivotal Veracity's eDesign Optimizer, is the most comprehensive email preview tool I've seen. Email clients, IE/Firefox testing and a large selection of mobile devices are available. They even support the iPad.
I've only had an hour long demo for STYLECampaign, but here are some unique features:
1. Link, alt tag and image validator.
2. Tells you how long it takes your email to load on a mobile.
3. W3C HTML code validation
4. Design guide on hand, need to know if Blackberry supports word spacing?
5. Can choose which screenshots to export as a PDF.
(too many to list…)
Cons: Not an emulator, you can't do usability testing – zoom/rotate ect on iPhone. Same with all the email specific preview tools below.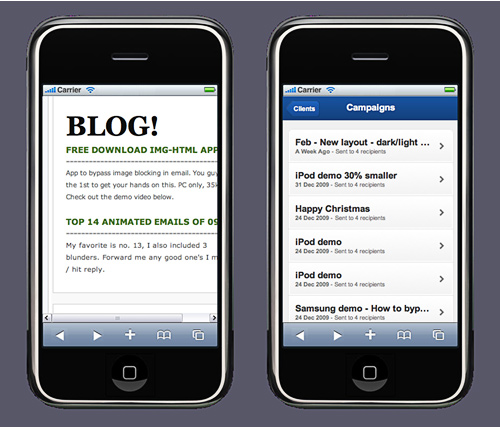 Pros: Finding a way to preview the STYLECampaign newsletter on the iPhone – on a PC! – was my priority. Shaun Sullivan's free WebKit hack, enabled me to log into my Gmail account and bring up our newsletter (See left).
The image on the right, shows the mobile version of my test account in Campaign Monitor.
Cons: It not perfect: zooms, scrollbars, shrink to fit and rotation are not supported. Need to install the iBBDemo.exe and Safari.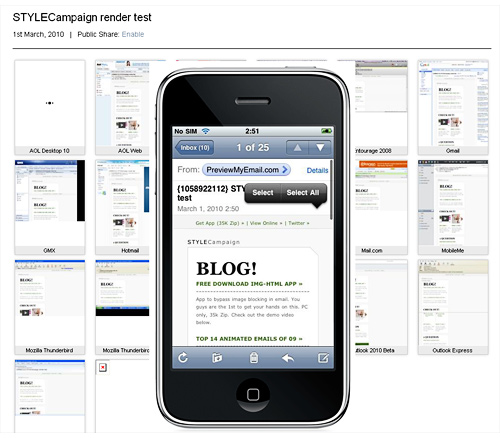 Pros: PreviewMyEmail have a public share toggle. View screenshots of 22 email/mobile clients including the iPhone, Windows Mobile 6.1 and even Outlook 2010 Beta.
Cons: If importing your HTML from your desktop, images need to be hosted externally. No Spam testing or preview pane view.

Pros: Litmus currently support 19 email clients and 14 Spam filters. Paul Farnell told me,
"We are still working on iPhone email testing, but this is something we hope to release within the next 4 weeks. At the same time we'll be launching support for Symbian, Windows Mobile and BlackBerry testing as well".
Litmus show your email with images on/off and in the preview pane. You can also make your test results public.
Check out the Litmus email client share report, just released. They collected data from almost 250 million email recipients.
Cons: 4wks to wait…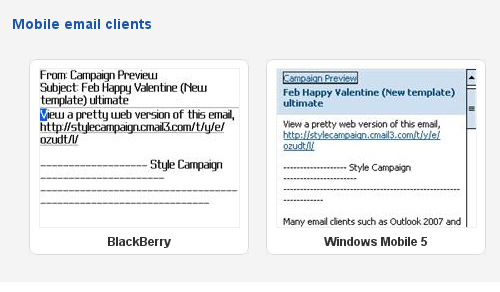 Pros: Campaign Monitor uses both Litmus and Return Path simultaneously. This ensures screenshots show up promptly.
Besides 20+ email clients and all the popular Spam filters, Campaign Monitor supports the Blackberry and Windows Mobile 5. You can view your emails with images on/off and in the preview pane.
Cons: No PDF export function or public sharing URL. No iPhone support at present. Though as they use Litmus, I'm guessing it will be available within 4wks.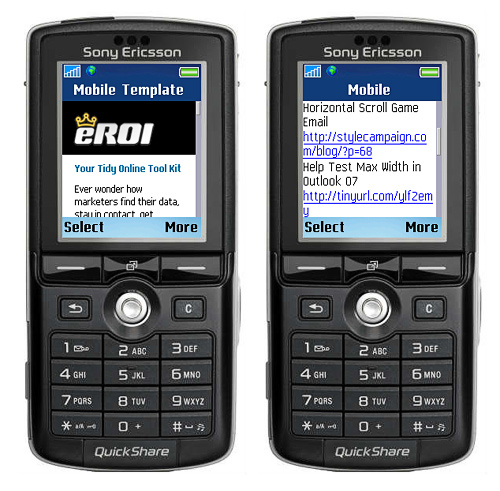 Pros: For 6 months I tested a,"Mobile Version" link in the pre-header of the STYLECampaign newsletter. Only a handful of people ever used it. When viewing the STYLECampaign mobile version on the Nokia N70 and Sony k750, I see how it could have been improved.
Compare how great eROI's mobile version looks (left) with ours (right). They added color and styling, whereas we left ours plain text.
Also see free tool mobiReady. It gives you an in-depth analysis, code validation and mobile readiness score. (plus 5 mobile emulators).
Cons: No iphone emulator.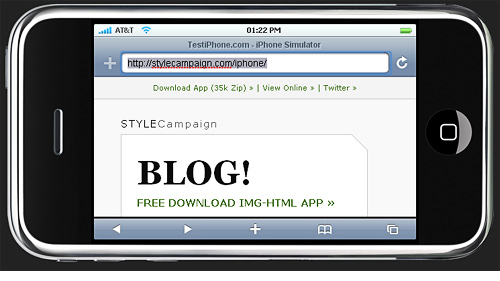 Pros: TestiPhone is a free web tool, you can preview your email on the iPhone, in either portrait or landscape view.
Cons: iPhone only, did not render my tracked URLs. Limited functionality, no zoom and scale.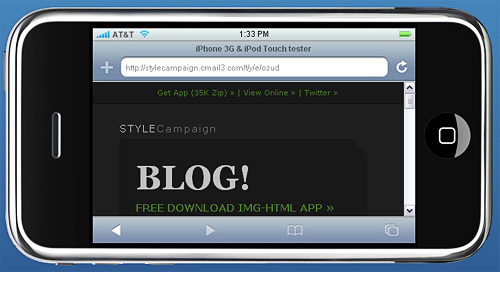 Pros: iPhoneTester is the same as TestiPhone. Free, web based with options for portrait and landscape views.
When I typed in a URL with link tracking, it rendered (above). Whereas Testiphone would not.
Cons: iPhone only. Limited functionality, no zoom and scale.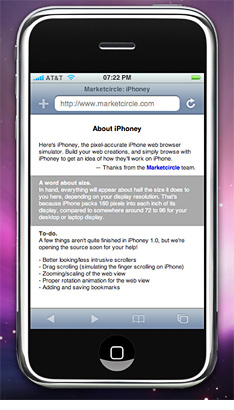 Pros: iPhoney previews how your emails and landing pages display on the iPhone. Portrait or landscape view, zoomed to fit/full size.
Cons: It requires Mac OS X 10.4.7 or later.
Pros: Free Apple SDK comes with an iPhone simulator.
Cons: Mac only.

Takeaway: With 42% of US consumers claiming to own a smartphone, email designers are playing catch up. Pivotal Veracity's research indicates that nearly 10% of B2C email is read on a mobile.
If you haven't already, grab MailBoxIQ or Fingerprint. Find out how many of your subscribers are reading your email on a mobile and get testing.